Midwest Vizsla Rescue's Team: Nationally, our rescue program has been used as a format for other rescues to replicate. We are very proud of our program and how we use our resources. Each team member has at least ten years experience in the breed - collectively we have over 150 years between us. Our fosters live in our homes as part of our family while being evaluated.

Meghan Tallman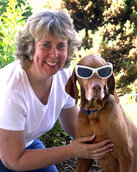 I've been in the breed for 50+ years and rescue for 25+ years. My parents legacy was bringing the first Vizslas to the U.S. My legacy is to encourage responsible breeding and help those Vizslas who become homeless through no fault of their own to be rehabilitated and re-homed. In addition to Midwest Vizsla Rescue, I am the South Central Rescue Regional Coordinator (Mo, Ks., Ark., Ok., Tx, Ky., La) for the Vizsla Club of America, serve on the VCA Health & Welfare Foundation and belong to several regional Vizsla clubs. I have 5 Vizslas: Nellie, Danni Girl, Bull, Paddy and Frankie Jane, as well as two parrots, Gray-C, an African Grey and Marlowe, a Red Lored Amazon. We normally have anywhere between one and three rescues at the house at any given time. My dogs show in the breed ring, compete in obedience and the field. In addition, I breed and rescue. In between, we spend some serious couch time.
---
Barb Blaylock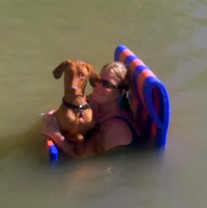 My uncle, a doctor in Kansas City, Ks. had a friend who knew somebody who had this wonderful "new" breed of hunting dog that he thought would be perfect for our family. While we had never heard of a Vizsla, my dad thought we try one out and "Honey", as I named her, arrived by air from Omaha, in early 1969. My uncle was right, she was intelligent, unique, talented and soon became my best friend and companion, as well as our hunting dog. I was hooked; from that time, with the exception of a few years while I was in college and grad school, there have been one or more vizslas in my home. I have been involved in rescue for 20+ years. Rescue is a household activity with my husband Daryl and our son Andy both helping with our rescue program. It's hard to remember a time when there hasn't been at least three or four vizslas in our house. I currently own three vizslas (all rescues that never made it to the website!) Cody,(an abused and abandoned fear-biter) who is now a 14 +/- happy old man, Mini-Mag ( a perfect, but small – 28 lb. 8 yr. old) and Topo, ( a 5 lb., 13 wk. starving pup) who is now a 3 year old thriving young lad. We also have one very rare "black vizsla", Ziva who doubles as Andy's duck hunting black lab. And there is always one or more rescues living with us as well. We have two house cats who act more like dogs than cats, and two geckos who are very content to remain behind their glass house as there is almost always a cat or dog on the other side. Outside there is a pastures full of quarter horses, and of course, plenty of barn cats in the barns. Rescue and fun with the dogs is my only focus with vizslas. When we're not all playing in the creek, or running the pastures, or kickin' back at the lake, you'll find us lounging around the house with the critters, scrambling for space on the sofa.
---
John Markham
My name is John Markham and I have fostered vizslas for six years. I like to compete in field trials with my vizslas and during the season we hunt pheasant, prairie chicken and quail here in Kansas. We try to get the dogs on the ground thirty days a season. When I am not hanging out with the dogs, we race pigeons and I like to participate in as many sports as I can. I teach high school history for a living and enjoy that as well.

---
Kelli Aitken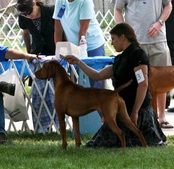 I've been active in dogs my entire life, and involved in Vizslas and rescue for almost 5 years. I grew up in the obedience and conformation worlds and discovered upland hunting and field trials when I moved to Kansas. I travel extensively for dog shows and spend majority of my fall and winter seasons chasing upland birds with the dogs. I'm actively involved with the Irish Setter Club of America and their Health Committee, as well as a board member of Midwest Vizsla Rescue.


---
Tamara Wise
Hi there, I'm Tamara Wise!! My family and I (husband Bart and 2 teenagers) have been involved in the Vizsla world since the late '90's. We purchased our first Vizsla as a father's day present for my husband; he wanted a bird dog to go hunting with him and his friends. I did a lot of research on bird dogs before deciding the Vizsla was right for our family. We are an on the go family, enjoying camping, boating, river rafting, sports, etc. The breed fit right into our daily lives as we are on the go with them a lot. We rescued our second Vizsla from our local shelter. He was not socialized as a puppy, so we worked hard on socializing him in different environments. He became the love of our family, and did not leave our home. He has now taken over as the hunter of the family, as our female Copper is older and enjoys her couch time. Both Copper and Dexter enjoy a trip to the local wild life refuge here in our area. We have had many rescues through our home in the many years we have been involved. It is such a heartwarming experience to help a dog find their new forever home, and then to be informed of how they are doing through the years. This has been a wonderful experience for our entire family, couldn't think of ever not being involved in the rescue program. It has certainly enriched our lives!!

---
Kimberly DeYoung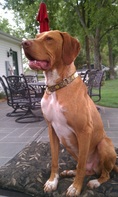 We brought our first Vizsla puppy home in 1989 and have had the red dogs in our lives ever since. I have shown in the breed ring, obedience ring, and competed in hunt tests and agility trials. Todd and I were two of the 11 founding members of Show Me Vizsla Club. Shortly after we officially organized, we were made aware of the need for Vizsla rescue when four 12 week old puppies were brought into a local shelter. I have strongly supported rescue by fostering, serving as the Rescue Chair for SMVC, and mentoring those who are considering adopting one of our rescues. Several people that we have mentored have come back for a 2nd dog. We have one
Vizsla, Remy, who is the second rescue that we adopted. He has happily adapted to living with us, our two children, three horses and one cat.

---
Jessica Provost

​I had worked closely with animal rescue a few years back managing adoption programs for shelters in Colorado and Kansas, but then left the field entirely. Recently though – with a running habit, two grade school-age kids, an elderly dog, and two laid-back cats – I thought we might be in a perfect position to get involved in rescue again by fostering. I've always adored Vizslas and had noticed an uptick in their popularity/rescue needs, so it just made sense to focus on them.

As it turns out, our house is indeed great for exposing dogs to a wide range of typical adoption situations and fostering is such a rewarding experience for us as a family. We really love getting our Vizsla visitors set up for success in their forever homes!
Tony Simcic
I've been interested in Vizslas for 30 yrs. but did not get my first until 2003. Nothing I thought I knew about the breed prepared me for the reality, and I've loved every single part of it. My daughter (a registered Vet Tech) is
ultimately responsible for me getting in to rescue. We began with
fostering GSD's (German Shephard Dogs). She got her own place when I
would not let her have as many dogs as she liked. Before she left, she got
me involved with MVR in March of 2015, which led me to a new appreciation
for the breed's resilience. I've often pondered the relevance of nature over
nurture in dog behavior. Through fostering I have learned a new respect for
what nurturing the nature of a Vizsla can do. With a little help from me and
my pack (2 Vs of my own) some disadvantaged dogs can become part of a
loving family. My motto: "I do not place foster dogs… I gain adoptive
families! I still keep up with them all. Recently my wife and I began
running our dogs and fosters in Disc Dog competition as a way of spending
more time on a daily basis with our dogs. It has been fun training - a win -
​ win.


---